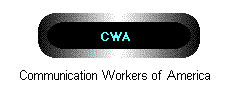 COMMUNICATION WORKERS OF AMERICA (CWA)
[Representing Custodians]
Sharon Cordova, President
Gary Melillo
Public Sector, Vice President
CWA Local 7777
2840 5. Vallejo St.
Englewood, CO 80110
(303) 781-8700
(303) 789-3325 : Fax
Agreement Expiration Date: 12-31-2002
Click here to download the Current Agreement
[The agreement is produced in Word for PC. Mac users download and open documents with Word for Mac 98, 2001 or MacLinkPlus.
Note: Agreements are official district documents and changes are not authorized.]
2001 Negotiations Status: Completed
2002 Negotiations Status: FULL CONTRACT
DPS Team Members: Ray Warren (Chief Spokesperson) and Rusty Deane
Ruth Stevens, CWA Representative
8085 E. Prentice Av.
Englewood, CO 80111
(303) 770-2822
(303) 771-7198 : Fax
(Near Belleview & Ulster in Tech Ctr)