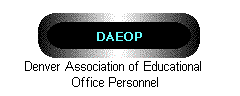 DENVER ASSOCIATION OF EDUCATIONAL OFFICE PERSONNEL (DAEOP)
[Representing Secretaries, Bookkeepers, Office Support, Accounting Technician]
Amy Grant, President
University Park Elementary School
2300 5. St. Paul St.
Denver, CO 80210
(303) 756-9407 (after 12:30)
(303) 764-7953 : Fax
Agreement Expiration Date: 8-31-2003
Click here to download the Current Agreement
[The agreement is produced in Word for PC. Mac users download and open documents with Word for Mac 98, 2001 or MacLinkPlus.
Note: Agreements are official district documents and changes are not authorized.]
2001 Negotiations Status: Salary and Benefits have been initiated.
2002 Negotiations Status: Salary and Benefits
DPS Team Members: Ray Warren (Chief Spokesperson), LeAnn Lucero, and Cindy Rundstrom