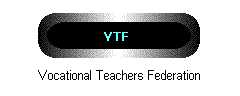 VOCATIONAL TEACHERS FEDERATION (VTF)
[Representing Vocational Teachers]
Carmen Opidee, President
Emily Griffith Opportunity School
1250 Welton St.
Denver, CO 80204
(303) 575-4700
(303) 575-4762 : Fax
Agreement Expiration Date: 8-31-2002
Click here to download the Current Agreement
[The agreement is produced in Word for PC. Mac users download and open documents with Word for Mac 98, 2001 or MacLinkPlus.
Note: Agreements are official district documents and changes are not authorized.]
2001 Negotiations Status: Salary and Benefits have been initiated.
2002 Negotiations Status: FULL CONTRACT
DPS Team Members: To be determined.