ACTOR SPECIFIC

1. Why doesn't Jeppesen negotiate a "product placement" agreement with Harrison Ford's film production company to guarantee the strategic placement of a Jeppesen product (i.e., JeppView) in all films starring or produced by Harrison Ford, and in return Jeppesen would provide Mr. Ford (and/or his production company, or his designated film studio) with certain pricing benefits for Jeppesen's products and services?

2. Given #1 above, why doesn't Jeppesen negotiate similar "product placement" agreements with all of Jeppesen's entertainment industry clients with an "A" level status as actor (John Travolta), directors, producers, etc.?

3. Why doesn't Jeppesen co-produce (finance) the writing of a script and production of a film about Captain Elrey B. Jeppesen, starring Harrison Ford, or John Travolta, etc.? Here's a great opportunity to show everyone in the world how and why Jeppesen must ALWAYS be considered over Liddo! Plus, you have to admit, there's a certain competitive thrill in showing an in-flight film about Captain Jepp's success on Lufthansa planes.

4. Why wasn't there not even one "product placement" or referral to Captain Elrey B. Jeppesen - or to a Jeppesen charting product - during the entire 166 minutes (nearly 3 hours) of Martin Scorsese's 2004 epic, "The Aviator," about the life of legendary aviator Howard Hughes as portrayed by Leonardo DiCaprio?
GENRE SPECIFIC

5. Why doesn't Jeppesen negotiate a "product placement" agreement with all major and independent film studios for all films featuring aviation or marine transportation?

6. Why doesn't Jeppesen co-produce (finance) the writing of an original script and production of a contemporary film about the high tech world of aviation and marine navigation which, as producer, would guarantee Jeppesen ample product placement?

7. Jeppesen could have produced "product placement" throughout the seven year broadcast of "Wings" (see photo at right) on the NBC television network, but did not. Nevertheless, why doesn't Jeppesen co-produce (finance) the writing of an original script and production of a contemporary television series about the high tech world of aviation and marine navigation which, as producer, would guarantee Jeppesen ample product placement? Think "CSI: Jeppesen" or "Law and Order: Jeppesen," or with a slant to the future of aerospace, think "Star Trek: Jeppesen"!

8. If it's not too late, and only if it can be done to reflect positively on Jeppesen and in alignment with the script, is it possible to include a Nobeltec "product placement" in the 2006 film "Poseidon" starring Kurt Russell, Richard Dreyfuss, Emmy Rossum and Josh Lucas - a remake of 1972's "The Poseidon Adventure"? Hopefully, the film is still in post-production with product placement a possibility.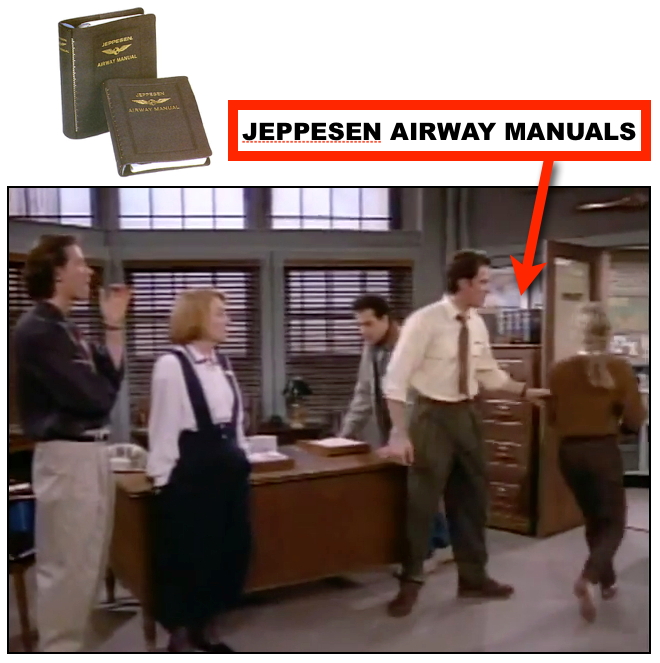 Wings is an American sitcom that ran on NBC from April 19, 1990, to May 21, 1997. Tim Daly and Steven Weber star as brothers Joe and Brian Hackett, in the fictional "Tom Nevers Field" airport, a small two-airline airport in Nantucket, Massachusetts, where the Hackett brothers operate Sandpiper Air. Source: Wikipedia

INDUSTRY SPECIFIC

9. Since the production of film, television, and sporting events are a global enterprise that frequently requires both U.S. domestic and international travel, does Jeppesen have service level agreements (for flight planning, crew scheduling, etc.) with the world's leading entertainment companies and their subsidiaries that either own or lease a fleet of aviation or marine equipment? If not, why not? [(1) Time-Warner - Warner Bros., New Line, HBO, TNT, TNN, CNN, Turner Classic Movies, WB, Columbia House, Warner-Elektra-Atlantic, Reprise Records); (2) Disney - ABC-TV, ESPN, A&E Television, Touchstone Pictures, Hollywood Pictures, Miramax Pictures, Buena Vista Film Distribution, Lifetime Entertainment, Disneyland, Disney World, EuroDisney, Anaheim Angels Professional Baseball club, Mighty Ducks of Anaheim; (3) Bertelsmann (based in GĂºtersloh, Germany) - own hundreds of music labels including BMG Music, hundreds of newspaper and publishing houses like Random House, and extensive online holding like Lycos; (4) News Corporation - publishes The Times of London, Fox Entertainment, Fox Broadcasting, 20th Century Fox Film Studio, Los Angeles Dodgers, owns over two-dozen local U.S. TV stations; (5) Viacom - CBS-TV, Paramount Film Studio, UPN-TV, extensive cable properties include Showtime, BET, TVLand, mtvU, Sundance Channel, Nick at Nite, Country Music, Spike TV, Comedy Central, VH-1, Nickelodeon, MTV, The N, owns over 40 local U.S. TV stations, Infinity (radio) Broadcasting, Viacom Outdoor Signs, Famous Music, Simon & Schuster publishing, and theme parks; (6) Sony - Sony Pictures Entertainment, Sony/Columbia Motion Pictures, PlayStation, electronics manufacturer (TVs, music systems, computers, cameras, etc.), 40 subsidiaries in Japan, 70 subsidiaries outside Japan, 102 web sites; (7) NBC Universal (owned by GE which is an even bigger target!) - NBC-TV, Universal Film Studios, Telemundo cable, Bravo cable, CNBC, Focus Feature Films, Universal Theme Parks and Resorts]

10. As Marvel Comics has done with its publishing properties (Spider-Man, The Hulk, The Fantastic Four, X-Men, The Punisher, etc.), why doesn't Jeppesen either (a) create a "lobbyist-like" position [i.e., Job Code JE7211 - Director, Washington D.C. Office] to convey and represent Jeppesen's interests in the production of feature films and television properties with the aforementioned global entertainment leaders, or (b) create a separate entertainment division to pursue the on-going promotion and production of original entertainment properties that will strategically feature Jeppesen's products and services in films, television, and gaming (instead of the piecemeal effort deployed through Microsoft's Flight Simulator - see promotional discription at right)?

I could go on and even focus on industries other than entertainment but, alas, I'm not a Product Manager, I'm just the HR guy that designs jobs. However, the aforementioned captures the higher scope of product management that is not currently captured or performed within PM jobs at Jeppesen.Most respectfully, why is that?

Trip Reynolds, x4519
Jeppesen Human Resources
August 2005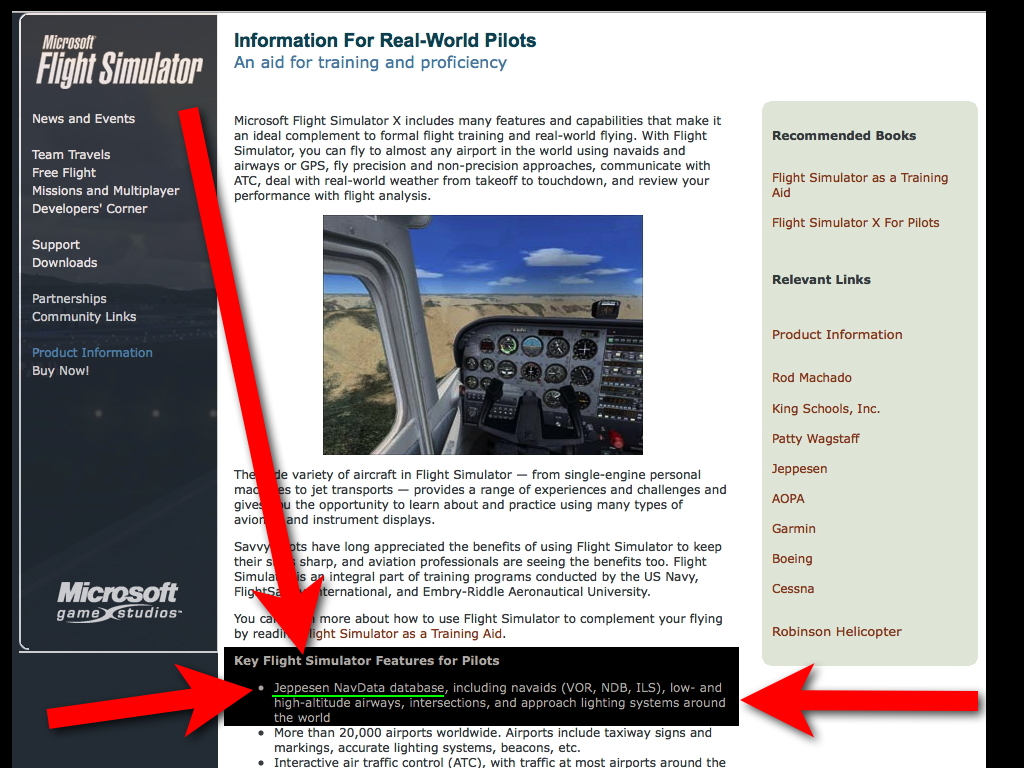 What effect was taken by Jeppesen's Product Managers to commerically exploit Jeppesen's intellectual property in the gaming industry, films, animation, retail, etc.?