2007 Colorado Rocky Mountain Senior Games
Wednesday, June 6 to Sunday, June 10, 2007
Rocky Mountain Senior Games
Greeley Senior Activity Center
1010 6th St.
Greeley, CO 80631

Nebraska Senior Games, Thursday and Friday, August 9-10, 2007
Kearney High School - Kearney, Nebraska
308/233-3229

Prior competition in the Rocky Mountain Senior Games may qualify you
for the National Senior Games (click the icon below).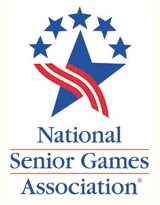 The 2007 Summer National Senior Games
- The Senior Olympics will be held June 22 - July 8 in Louisville, Kentucky
To participate, athletes must qualify at an NSGA State Games during calendar year 2007.

Weight Pentathlon and Throws Events
Schedule to be determined.

Weight Pentathlon and Throw Meets events generally begin
in mid-April and continue through late July.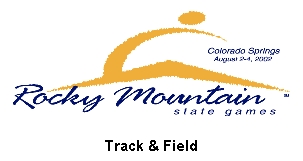 2007 Rocky Mountain State Games (State Games of America)
Thursday, August 2, 2007 through Sunday, August 5, 2007
Air Force Academy
Colorado Springs, Colordo







2007 USA Masters Outdoor Track & Field Championships
Thursday, August 2, 2007 to Sunday, August 5, 2007
University of Maine - Orono, Maine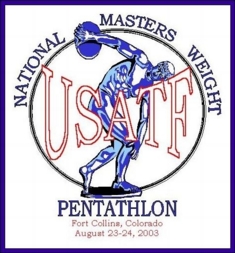 2006 USATF Masters Weight Pent. Championships
2007 and/or 2008 Date and schedule to be determined.
What is a Weight Pentathlon? Click here (PDF)!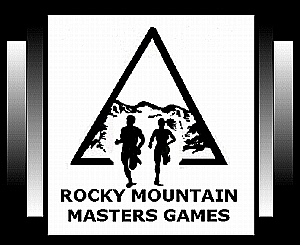 GET READY FOR THE LABOR DAY CLASSIC!
The 26th Annual Rocky Mountain Masters Games
Saturday, September 1, 2007 and
Sunday, September 2, 2007
Labor Day Weekend



Huntsman World Senior Games
Monday, October 8 through Wednesday, October 10, 2007
Track & Field - Schedule TBD
St. George, Utah
By Car: I-15 passes directly through St. George
- 120 miles northeast of Las Vegas - 300 miles south of Salt Lake City.
By Air: Fly directly into St. George using either Delta Airlines
or United Airlines or fly into either Las Vegas or Salt Lake City
and rent a car or call the St. George Shuttle (800-933-8320)
for a ride to St. George